AXIOM (A/X INTELLIGENT OPTIMIZED MOUNTING) -EN

A Digital Worker Assistence system for Assembly, training on the job AND ERRORReduction
EVVA develops and manufactures mechanical and electronic access systems. EVVA was founded in Vienna in 1919 and has been a family business ever since. EVVA offers its customers solutions tailored to their needs. Over 100,000 combinations for electronic access systems are available to customers. The production of these requires countless manual steps, which are specific to different variants. Due to the constantly increasing variety and more complex assembly situations, more and more knowledge is demanded from the employees. This leads to various challenges such as knowledge retention, knowledge transfer and preventing errors during the manufacturing process.
A novel solution consisting of a combination of an orchestration platform with a worker assistance system was introduced with the aim to support the employees in these increasing challenges.
Design
The worker assistance system consists of two central components, the administration view and the line view. In the administration view, the displayed information can be created and maintained, while the line view passes on the information to the workers.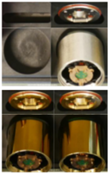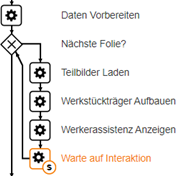 Currently, 8 production stations are planned for the electronic assembly. Each of these stations requires individual work steps and control displays which, however, in combination with potentially 100,000 different variants, represents an insurmountable configuration effort. To counteract this, the worker assistance system is built dynamically at runtime by the platform. The information for the product currently being manufactured is generated automatically from many different artifacts such as engineering drawings and work instructions.
Figure 1 (top left) shows a thumb turn and thumb turn disk in nickel finish. Figure 1 (bottom left) shows a double cylinder in the polished brass finish. Which type of cylinder is displayed in which color depends on many factors. These factors are evaluated at runtime using an orchestration platform (right), and the image is built dynamically based on the information obtained.
Advantages
The move from static work instructions to digital and dynamic worker assistance system offers a number of improvements, for example:
The dynamic setup makes it easier to integrate new products.
Since the Worker Assistance automatically provides the instructions for the product currently being manufactured at runtime, it is easier to train new employees while they are working.
Dynamic content such as videos or even web pages can be integrated into the work instructions.
The worker assistance system offers the possibility to check the target and actual status.
If errors are detected, they can be directly reported.
The content can be quickly adapted.
Adaptation of content to specific roles is possible (individual targeted support).
Projektkoordination (Story)
Beate Scheibel, BSc BSc (WU) MSc
Research Engineer
Austrian Center for Digital Production GmbH
https://acdp.at/wp-content/uploads/2022/07/image-4.png
955
1702
Jan Werner
https://acdp.at/wp-content/uploads/2021/06/image001-300x70.png
Jan Werner
2022-08-17 12:23:14
2023-10-16 13:54:39
AXIOM (A/X INTELLIGENT OPTIMIZED MOUNTING) -EN